Regular price
Sale price
$51.00 AUD
Unit price
per
Save
Sold out
100% ORGANIC 
Components : Colombia, Mexico, Peru
SMOOTH | SWEET | BALANCED
Moon Runner is our go-to-blend. A versatile, easy drinking, medium style roast that works across a number of brew methods.
As an espresso it has a toffee sweetness with dark chocolate and citrus on the finish. Add milk and it's smooth, sweet with a balanced flavours of malt, caramel and soft fruits.
Made from a blend of Fair Trade and Organic coffees. 
SUBSCRIBE AND SAVE
Subscribe to a 6 or 12 month Coffee Subscription and save up to 10% on your order. Have your favourite blend delivered every month, straight to your door, so you never run out of coffee again.
Share
View full details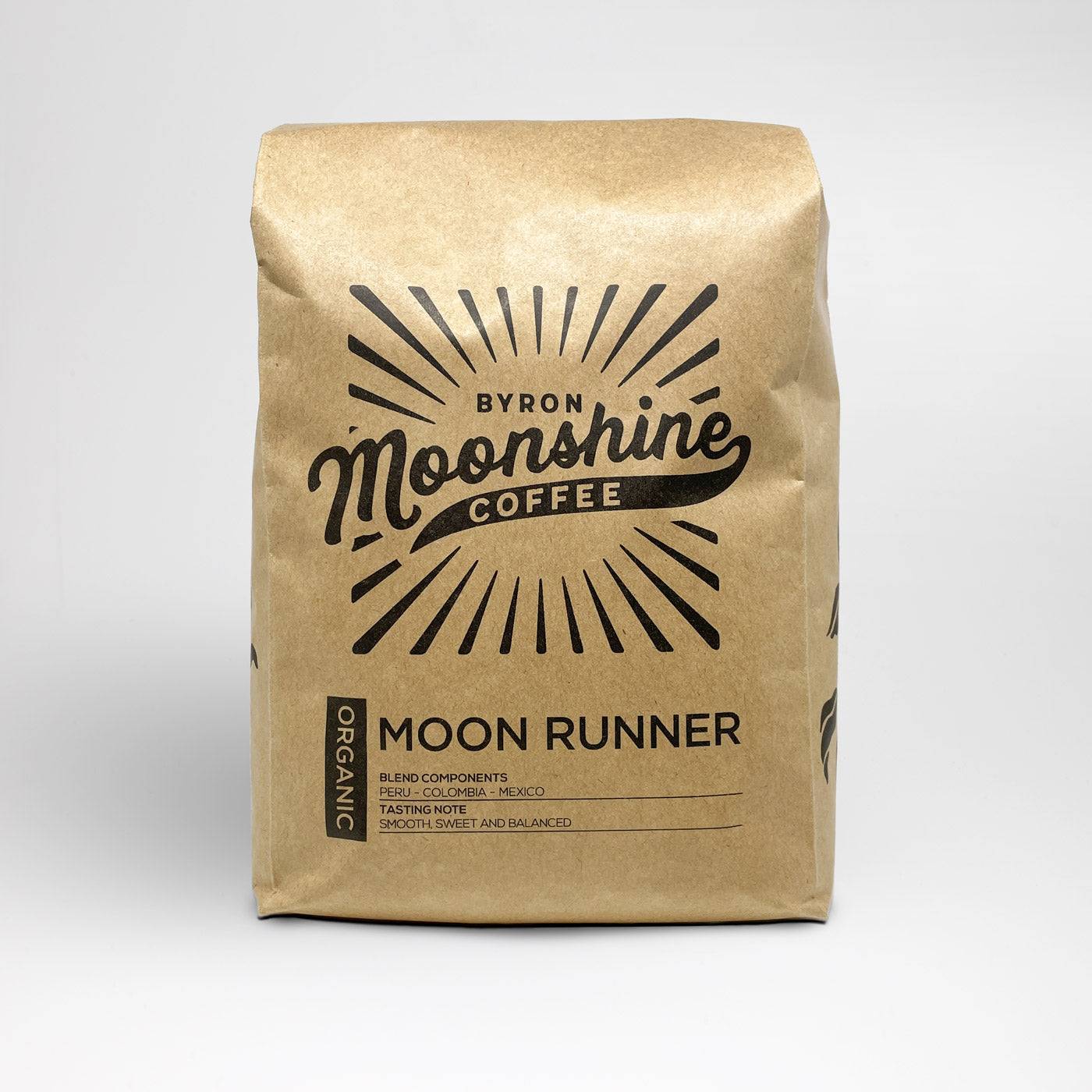 Fabulous Coffee
Moon Runner is perfectly balanced for milk coffees. Highly recommend this coffee.
Great Coffee
I bought Moon Runner and have really enjoyed the smooth flavour of the coffee, would totally recommend this coffee
Great coffee!
Doesn't matter how many other suppliers I try, I keep coming back to Moonshine!
Title: A Rich and Earthy Delight - Organic Coffee
I recently had the pleasure of trying out an organic coffee, and I must say, it was a delightful experience. As a conscious coffee enthusiast, I'm always on the lookout for eco-friendly and sustainable options, and this organic coffee truly delivered.
From the moment I opened the bag, the rich aroma of freshly roasted beans enveloped my senses. The earthy and slightly nutty notes were a promising indication of the coffee's flavor profile. I ground the beans to a medium coarseness, which allowed for an ideal extraction during brewing.
As I took my first sip, I was immediately captivated by the smoothness and balanced taste. The coffee's medium body and low acidity made it exceptionally easy to drink, even without any cream or sugar. Each sip revealed a harmonious blend of chocolaty undertones with a subtle hint of caramel sweetness, leaving a delightful aftertaste that lingered on my palate.
What sets this organic coffee apart is its dedication to sustainability. The beans are sourced from small, local farms that prioritize organic farming practices, ensuring a positive impact on the environment and supporting local communities. Knowing that my morning brew is both ethically produced and of exceptional quality adds to the overall enjoyment of the experience.
The only reason I'm not giving it a full five stars is that I found it slightly less intense than my personal preference for a robust morning kick. However, I can see this being an excellent choice for those who prefer a milder cup of coffee without compromising on flavor.
In conclusion, this organic coffee delivers a delightful and earth-conscious experience. If you're looking for a smooth, well-rounded cup with a touch of chocolate and caramel notes, this coffee is undoubtedly worth trying. Brew a cup, sit back, and savor the taste of nature's goodness in every sip.
Nice with almond milk
Never tried this before but it has a good balance flavour and yummy with unsweetened almond milk! Love knowing this is local to Byron