V60 FILTER BUNDLE
Everything you need conveniently bundled together to make a delicious V60 brew from the comfort of your home.
Our V60 Bundle comes with the following products:
Please select the Scales and Grinder you would like to add to complete your bundle. You can find detailed information on the different options below.
Regular price
$976.90 AUD
Regular price
Sale price
$976.90 AUD
Unit price
per
Save
Sold out
Using a V60 is one of the easiest and most consistent ways to brew coffee at home. A V60 Pour Over brewer draws out the sweetness, soft acids and rounded body of coffees roasted for filter brewing, allowing the delicate flavours of coffee to come through.
How To Use

1) Bring at least 500ml of fresh water and bring to the boil.

2) Place the cone lined with the filter paper on your jug. Pour some boiled water through to rinse the paper. Once drained through, empty water from the jug.

3) Place 30g ground coffee in the filter-lined cone. Place the cone on top of your jug, and then place the entire set-up on the scales and tare to zero.

4) Start the timer and pour just enough boiling water to cover all the coffee, then leave the coffee to 'bloom' for about 30 seconds.

5) Pour the rest of the water slowly, in a circular motion, being sure to aim at the coffee and avoid the side of the cone.

6) Aim to add all your water (500g in total) after 2 minutes. The brew should finish trickling through by around 3 minutes.

7) Swirl the finished coffee in the jug and its ready to go!
Share
View full details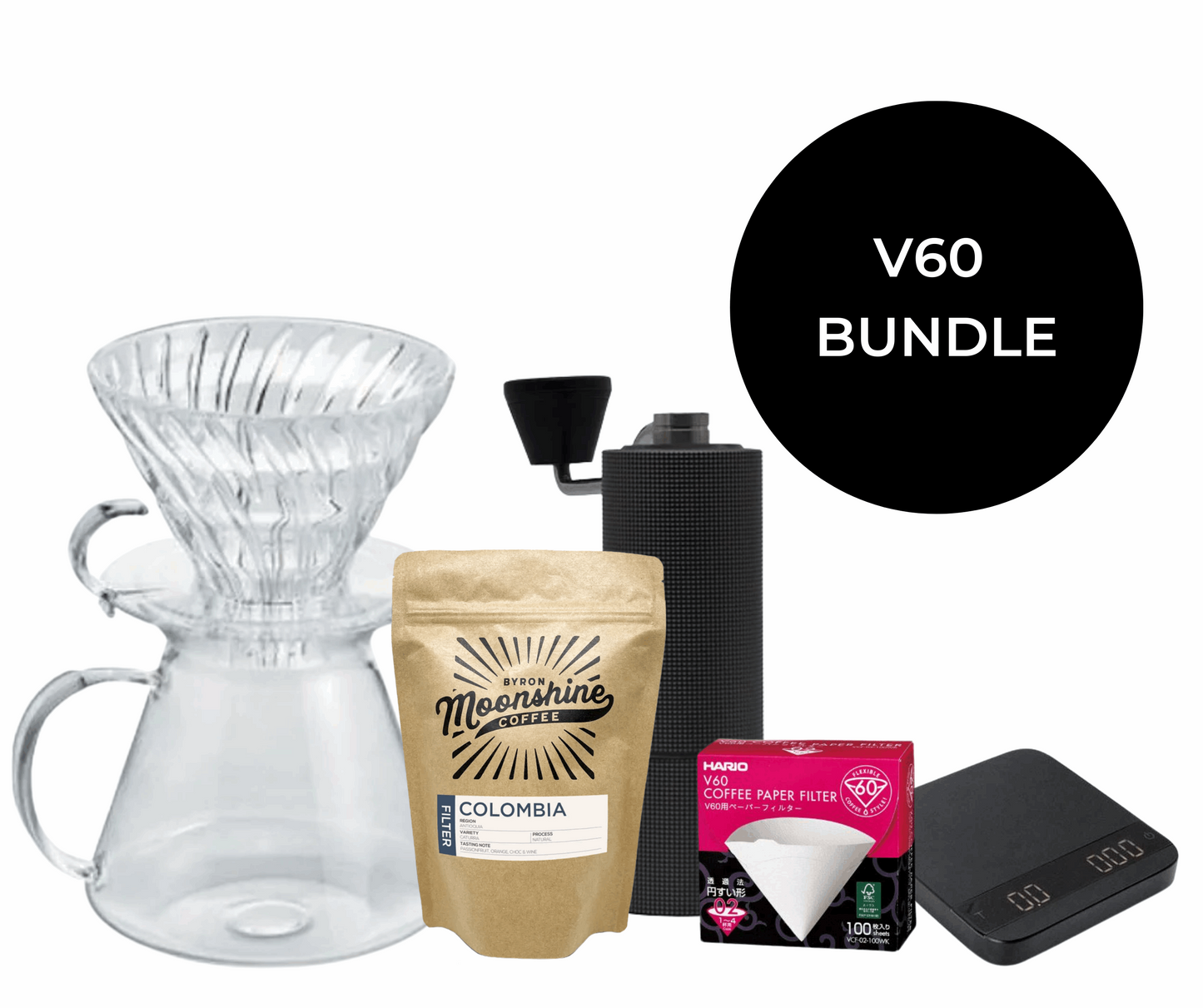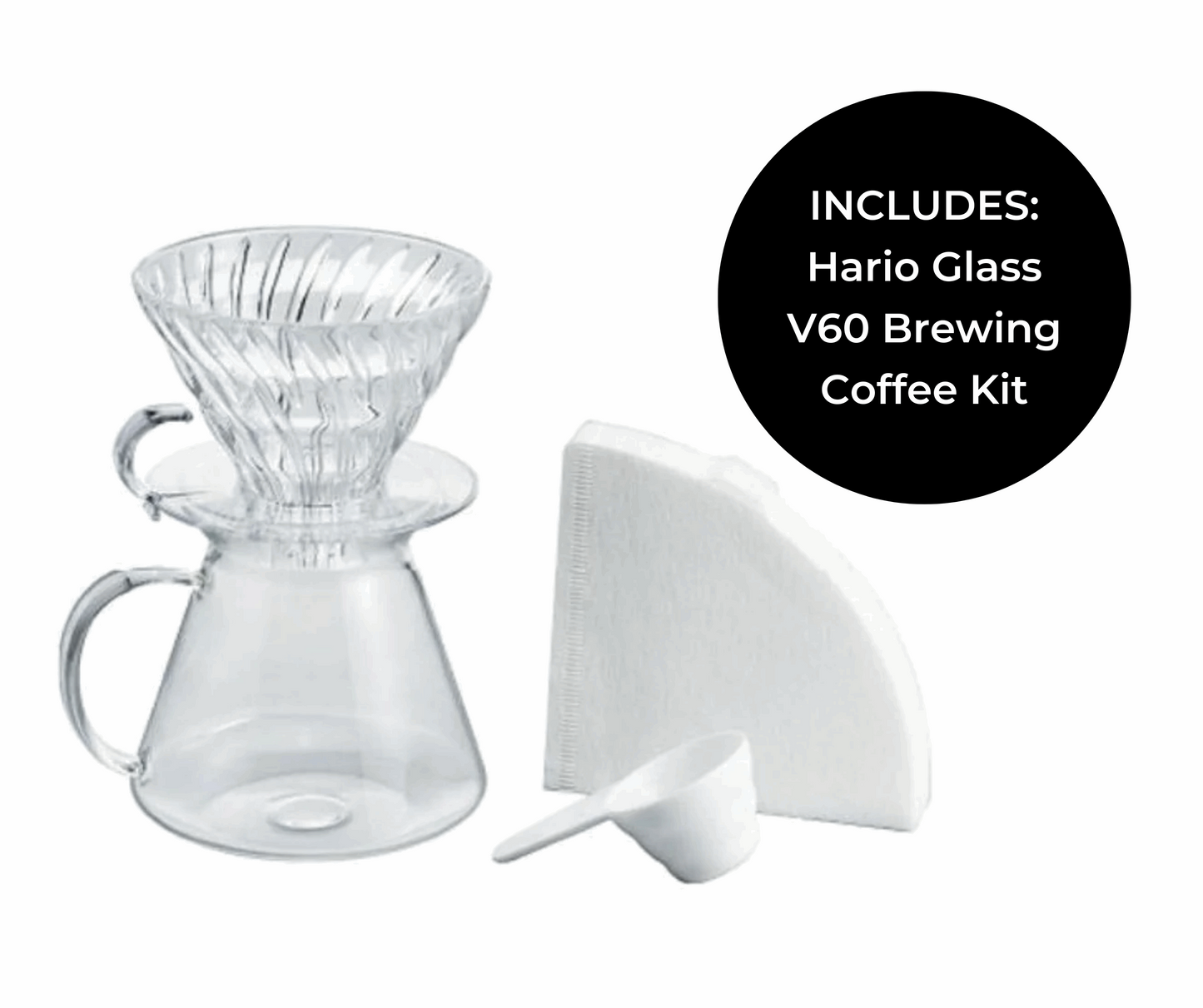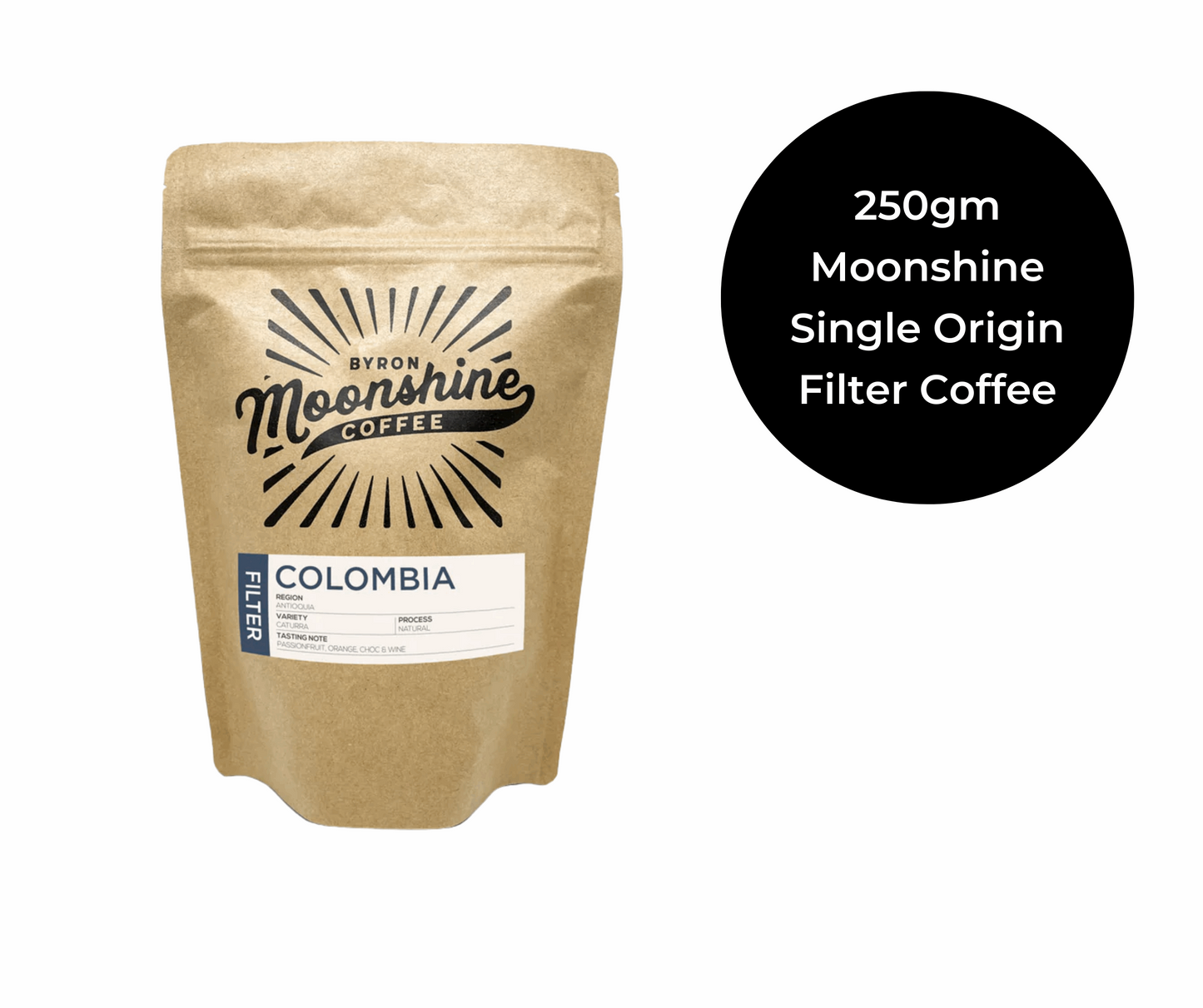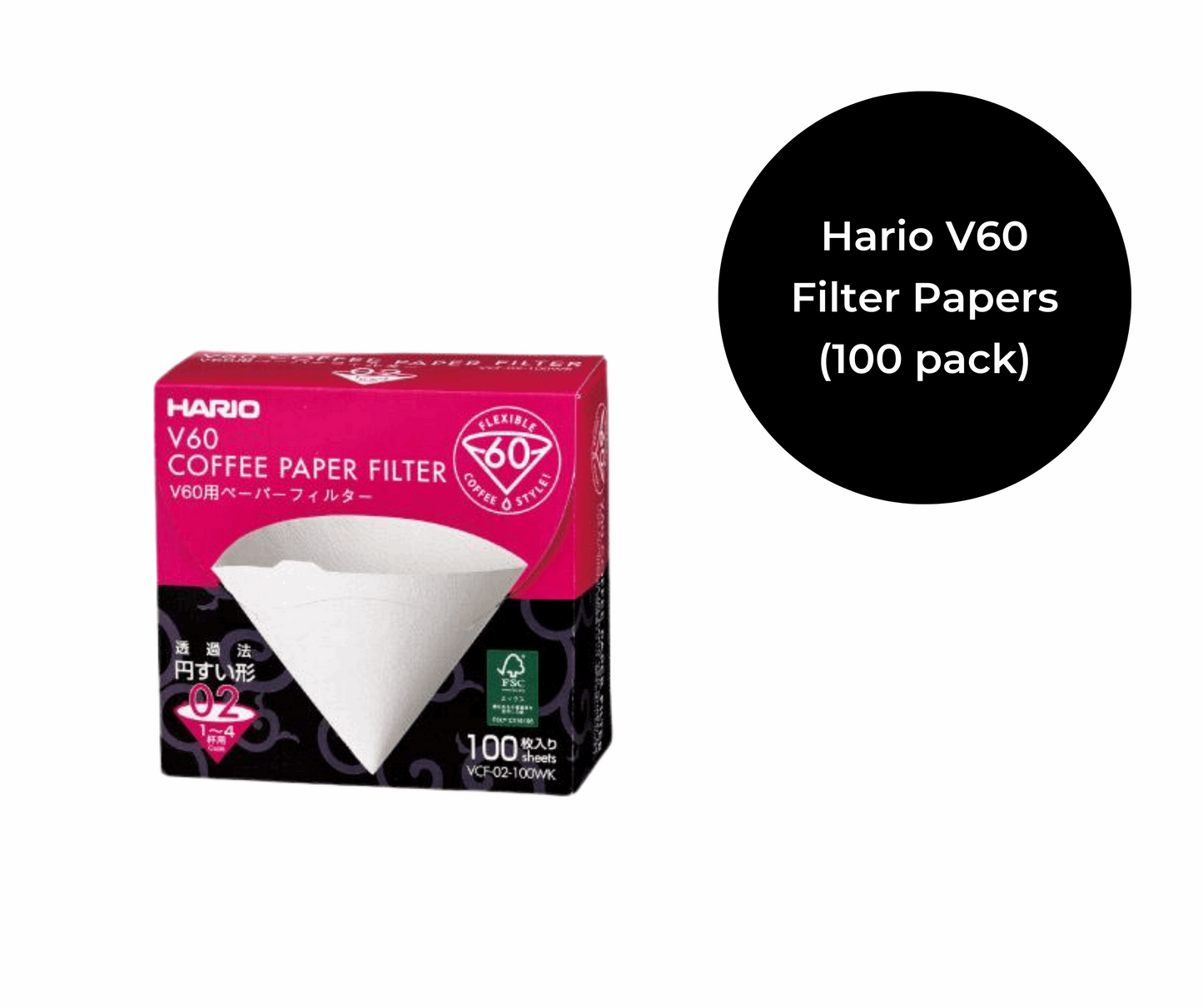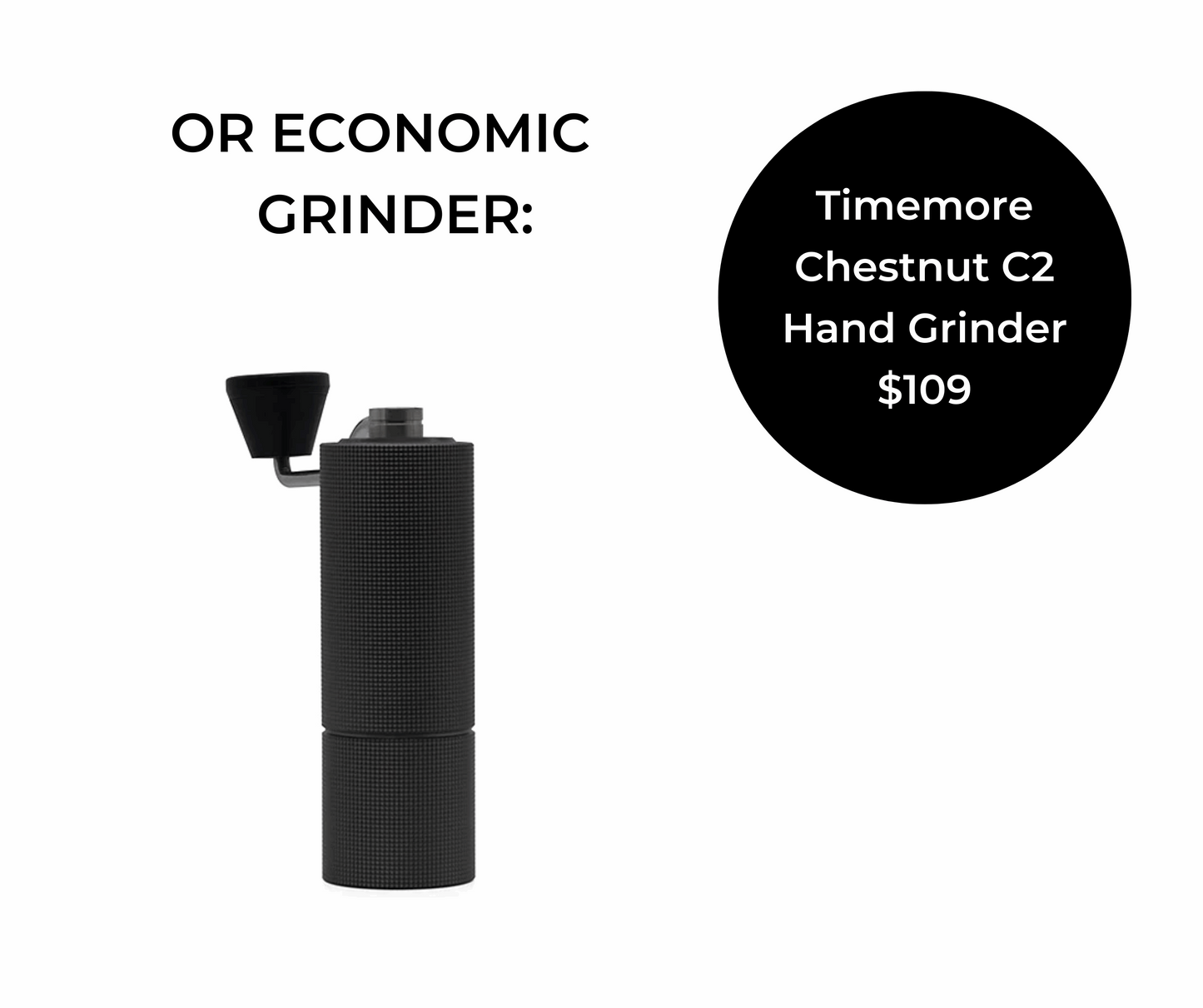 YOUR V60 BUNDLE
Details on everything that is included below.
Hario Glass V60 Brewing Coffee Kit

The Hario Glass V60 is a superb Pour Over brewer that can be found in cafes around the world. It features spiral ridges that keep the paper filter from attaching to the cone walls, encouraging a balanced and flavorful extraction.

Go To Product

250gm Moonshine Single Origin Filter Coffee

Every week we release a new Moonshine Single Origin Filter Coffee. From Columbia to Tanzania, we are continually discovering beautiful beans from around the globe. You will receive the current Filter Roast with your bundle.

Go To Product

Hario V60 Filter Papers (100 pack)

Using them alongside your Hario V60 Brewer, these filters have a smooth texture to both sides of the filter making superb even and steady flow of water during brewing, delivering a consistently perfectly clean, sediment-free brew.

Go To Product
Your Scale Options
Choose between our premium and economic scales.
ACAIA Lunar Coffee Scales | $389

These premium coffee scales use breakthrough design and technology to create scales that are accurate, versatile and made for the coffee enthusiast.

With 20 millisecond response time, bluetooth enabling, embedded stopwatch and a rechargeable battery, there's a reason these scales are the best of the best.

Go To Product

ARTISAN BARISTA Precision Scales | $88

The Artisan Barista Precision Scale is a digital coffee scale that offers all the functionalities you could ask for. Rechargeable lithium-ion battery, 0.1g readability and a tare function to keep your measurements accurate every step of the way.

Go To Product
Your Grinder Options
Choose between our premium and economic grinder.
FELLOW Ode Brew Coffee Grinder | $495

The Fellow Ode Brew Grinder enters a whole new class for home Filter Coffee grinders. They have reimagined what a grinder should look like and completed the package to optimise performance for precision and consistency in grinding fresh coffee.

Go To Product

TIMEMORE Chestnut C2 Hand Grinder | $109

The Timemore Chestnut C2 Hand Grinder is a rare find and does well in bridging the gap between entry-level hand grinders and the top of the line coffee grinder. With 38mm Stainless Steel Burrs, this grinder makes easy work of grinding for both espresso and filter coffee.

Go To Product